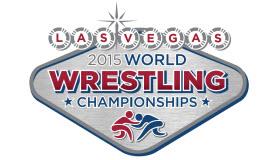 Dear Media Member:
USA Wrestling is now accepting media accreditation requests for the 2015 World Wrestling Championships, set for the Orleans Arena in Las Vegas, Nev., 7-12 September.
This is the first time that the USA has hosted a World Championships since the 2003 Freestyle World Championships in New York City. It is also the first and most important of the qualifying events for the 2016 Olympic Games in Rio de Janeiro, Brazil.
In order to receive a credential, media members have three options for applying for credentials: through an online process, sending in a hard-copy printed application, or by sending an email with all the necessary data.
Regardless of application option, the journalist must provide this basic information:
Name

Media outlet

Full address (street, city, country, postal code)

E-mail

Cell phone number

Job Function (Federation staff, print journalist, print photographer, internet reporter, Non-Rights Holder-radio, Non-Rights Holder-television, Rights Holder broadcaster

List of past Olympic Games and major United World Wrestling events covered.

If they need a letter of invitation in order receive a visa

If they are interested in hotel information
ALL APPLICANTS MUST SEND IN A MUGSHOT PHOTO IN DIGITAL FORMAT before their request can be accepted. This can be uploaded automatically through the online process or sent via email.
Media are not required to stay at a specific hotel in Las Vegas, which has numerous options at many price levels all across the city. For those seeking assistance, there are limited rooms for journalists covering the entire week of competition at the host hotel, The Orleans. Another option is the secondary host hotel, the Gold Coast. Information will be forwarded upon request. Please let us know that you want hotel information when you apply.
To apply for credentials online, you will be sent to a registration page. Please register as a guest. In the lower right corner, click the button "Continue as a Guest," then fill in the form completely.
To apply online, click the link below:
https://vegasworlds2015.sportngin.com/register/form/395153901
To download the hard-copy printed application, click the link below:
http://content.themat.com/events/15WorldsAccreditationForm.pdf
To apply by email, including all data and a jpeg mugshot photo, send to:
media@usawrestling.org
You will be notified when your application is received. In addition, you will be notified when your application is accepted, with additional information leading up to the World Championships.
Thank you. We look forward to working with you in Las Vegas.
 Gary Abbott
USA Wrestling Director of Communications
UWW Media Commission member