NEW BRIGHTON, Minn. -- The National Wrestling Media Association has announced its annual award winners for the 2018-19 season.
The NWMA is the national professional organization for journalists who cover the sport of amateur wrestling. This includes reporters, editors, publishers, webmasters, photographers, broadcasters, athletic communications professionals and other media professionals who share an interest and involvement in the sport. The organization was founded in 1989.
Several repeat selections highlight this season's winners, as well as several very accomplished first-time recipients. Second-time honorees include Jim Gibbons, Big Ten Network and ESPN; photographer Tony Rotundo, WrestlersAreWarriors; and Flowrestling. Gibbons was voted the Broadcaster of the Year, while Rotundo was again honored as Photographer of the Year. Flowrestling won Website of the Year. First-time winners are Cody Goodwin, Des Moines Register (Iowa) as Journalist of the Year, Brian Reinhardt, NC State as Division I SID of the Year, Corey Jewart, Gettysburg College, as Small College SID of the Year, and John Broughton of Trackwrestling and United World Wrestling as New Media Specialist.
"With the way our sport has changed with its coverage over the years, we still have some of the traditional mediums doing great work as well as the online ventures," said NWMA President Jason Bryant. "This season's group represents a lot of what we, as an organization, embrace and what we as a sport have evolved to over the years."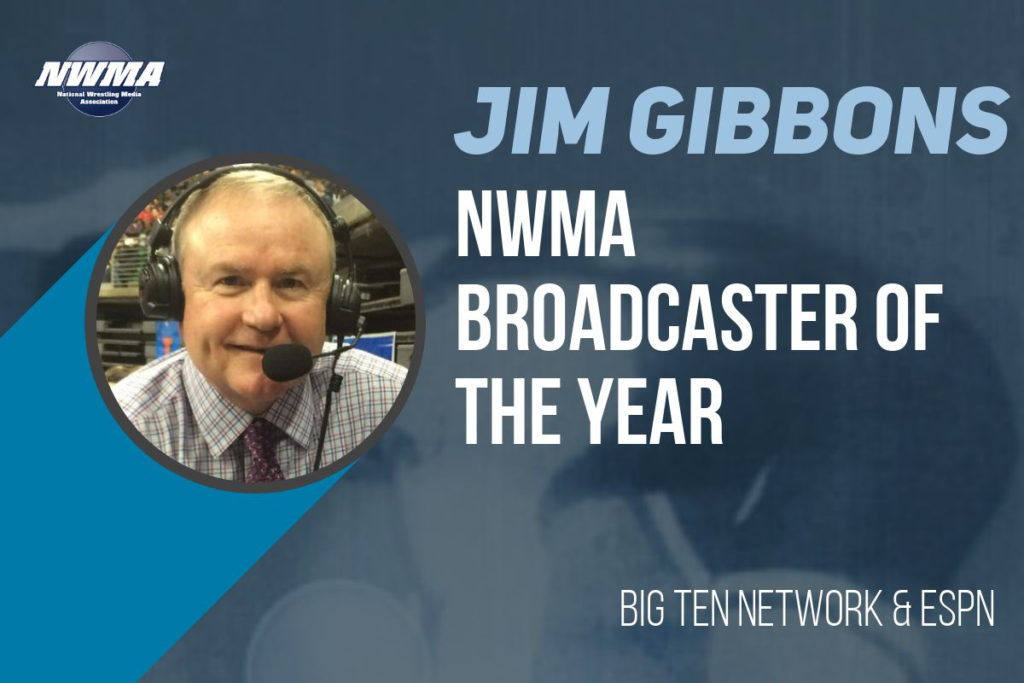 Broadcaster of the Year - Jim Gibbons, Big Ten Network, ESPN
A national champion as a competitor and as a head coach during his time at Iowa State University, Jim Gibbons has spent decades in and around the sport. He began commentating wrestling in 1995 on Iowa Public Television with longtime partners Tim Johnson and coach Dan Gable, while producer Doug Brooker orchestrated the telecasts. An experienced color commentator, Gibbons has anchored the Big Ten Network's college wrestling broadcasts with Johnson since the network's inception and he's also served as a commentator for ESPN during the NCAA Wrestling Championships and United World Wrestling for its online streams. This is Gibbons' second Broadcaster of the Year award, previously winning in 2003-04.
NWMA on Gibbons: "Jim makes sure you keep your shoelaces up each and every time you're in a scramble! In all seriousness, he's been a steady and consistent voice of wrestling for over two decades and his insight is one that can educate the first-time viewer or the seasoned wrestling fan."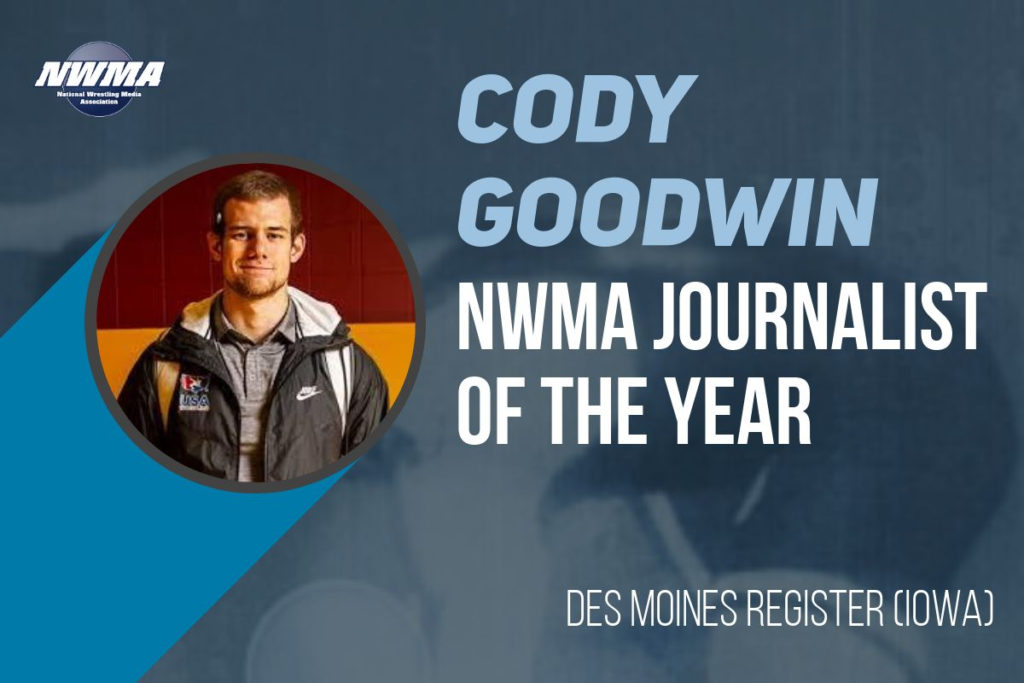 Journalist of the Year - Cody Goodwin, Des Moines Register (Iowa)
Cody Goodwin covers wrestling for the Des Moines Register. His primary beats include Iowa's three Division I programs: Iowa, Iowa State and Northern Iowa, as well as 350 high school teams, 22 NCAA Division II and III, NAIA and junior college programs. He's been at the Register for three years and has covered wrestling for two. Prior to his stop in Des Moines, he spent a year at the Ames Tribune, covering Iowa State and Story County wrestling. 
Goodwin also worked at The Daily Iowan for four years, covering the Iowa wrestling team. Throughout his career, Cody has covered multiple NCAA Championships, five Big Ten Conference Championships, two Olympic Trials, two World Team Trials, two Final X's and the 2018 UWW World Cup in Iowa City. Additionally, he's covered four Iowa High School State Championships. When he's not covering events live, Goodwin is often at his computer watching others online.
The Kansas City, Missouri, native won various in-state and national awards for his wrestling coverage. Goodwin takes great pride in his long-form feature stories, as well as his analytical/film breakdown pieces, breaking news, recruiting updates, and his weekly in-season mailbags. Goodwin joins previous winners Andy Hamilton and Dan McCool as recipients from the Des Moines Register.

NWMA on Goodwin: "When you cover wrestling in Iowa, there's an expectation of high-quality work. Cody is a hustler and someone who enjoys covering all levels of wrestling and done it in a very old school meets new school kind of way. His features are dynamic and his coverage is excellent."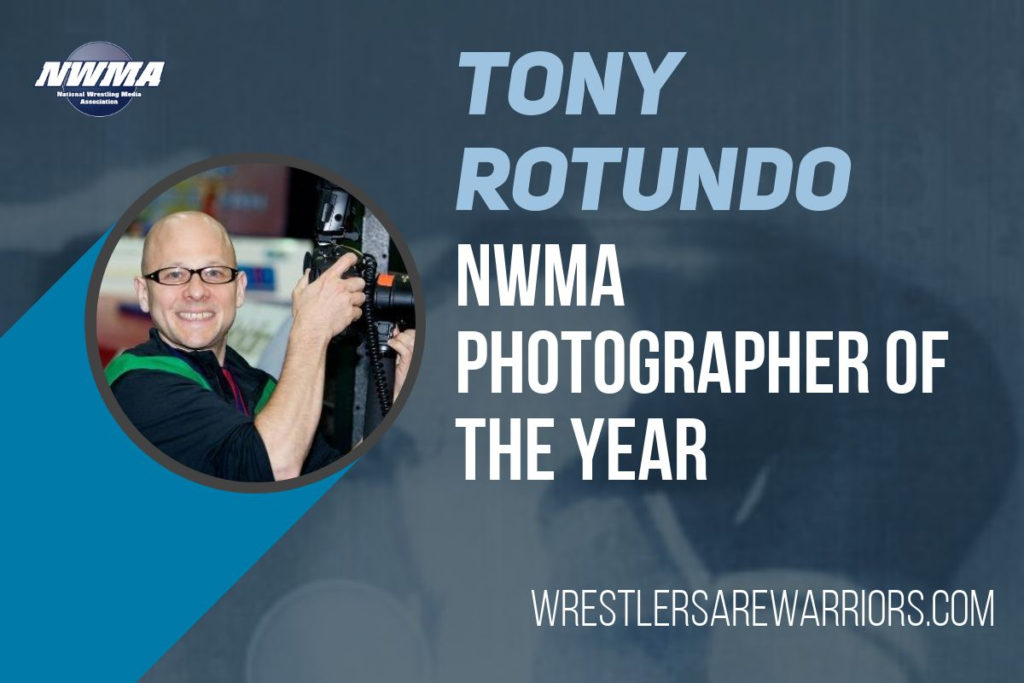 Photographer of the Year - Tony Rotundo, WrestlersAreWarriors.com
Tony Rotundo has been involved with wrestling his whole life, having grown up the son of the coach outside of Buffalo, New York. He was coaching at Berkeley High School in Northern California in 2005 when he decided to put down the whistle and pick up a camera. Rotundo had an affinity for photography since junior high, so the combination of two things he loved — wrestling and photography — immediately blossomed into a craft he still loves, and continues to hone today. Rising quickly as a shooter for USA Wrestling, Rotundo started covering the highest caliber of high school, college and international events. He's traveled the world covering the sport he loves, and is continually inspired by the hard work and determination of the athletes and coaches that he captures digitally. His images have also been used in virtually every major print publication in the country.
Rotundo is a fixture matside at major events around the world, including the World Championships, NCAA Division I Championships and numerous national, college and high school events. In 2016, Rotundo was one of the American photographers at the Rio Olympic Games. This is Rotundo's second award, he previously earned it in 2009-10.

NWMA on Rotundo: "Honestly, Tony can probably win this award every year if we allowed it. He's one of the most consistent shooters in the world and has provided images for all sorts of enterprises, ranging from magazines to wrestling room murals. He's stellar in every sense of word."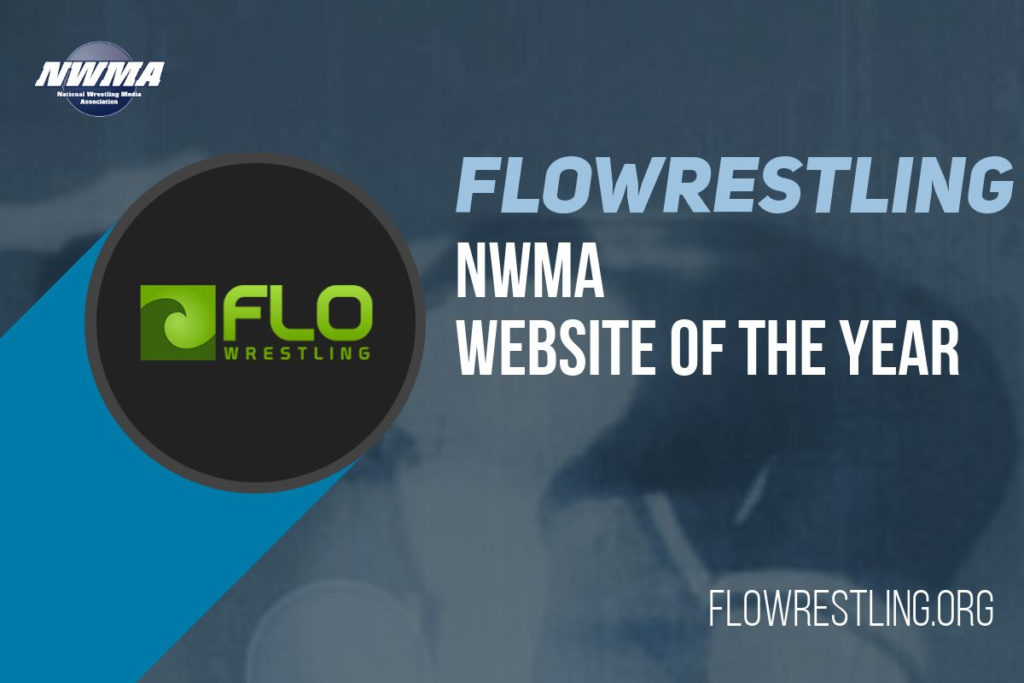 Website of the Year - Flowrestling
Founded in 2006, Flowrestling is one of the most popular verticals in the FloSports family. Flowrestling streams hundreds of live events annually. Flowrestling provides national rankings on the international, college and high school scene and commentary, analysis, documentaries and a popular twice-weekly podcast, Flowrestling Radio Live. Combined with its event management software, FloArena, Flowrestling's online offerings, both free and as part of their subscription service, has made it one of the most trafficked wrestling websites in the world. Flowrestling previous won the Website of the Year in 2010-11.
NWMA on Flowrestling: "The volume of content Flo puts out for subscribers and non-subscribers is pretty massive. The last time Flowrestling won this award, they were in the infancy of their live streaming offerings. Now they have partnerships with numerous schools and conferences as well as some of the highest-profile wrestling tournaments at every level. They have a passionate content team that produces a lot of original wrestling content. They too can make a case for being a candidate for this award every year."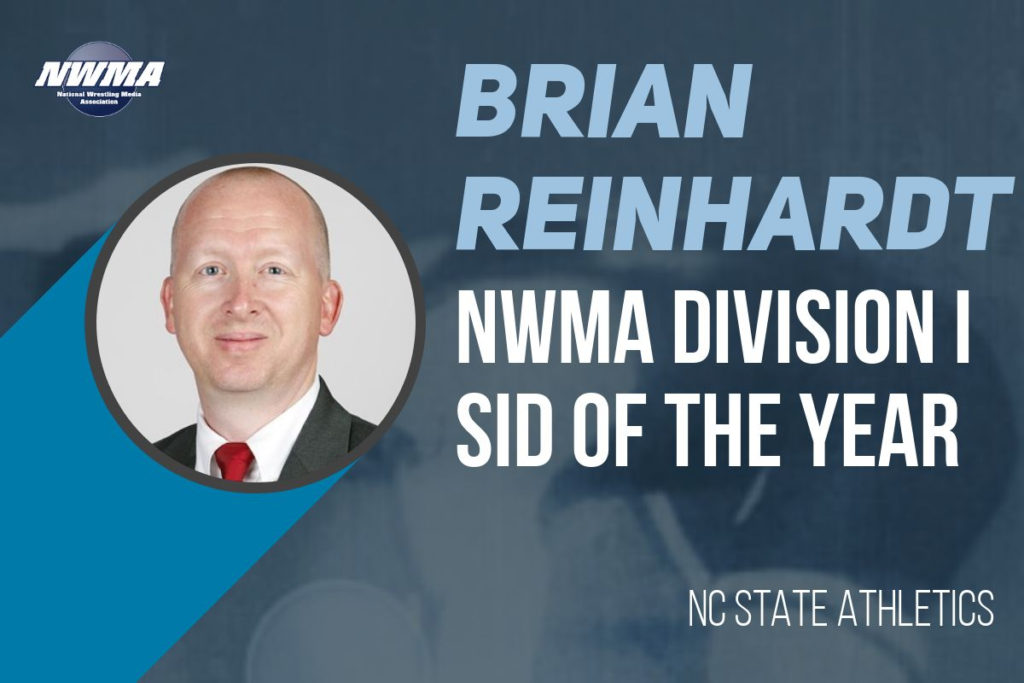 Division I SID of the Year - Brian Reinhardt, NC State
Brian Reinhardt has worked with the NC State Wrestling program for the past seven seasons. In leading the communication and social media efforts for the Wolfpack, he has worked with three NCAA champions, 12 All-Americans, two ACC Championship squads and six straight top-20 NCAA team finishes.
In October of 2017, Reinhardt spearheaded the efforts of developing the first NC State Athletics podcast, the #PackMentality Pop-Ins Podcast, which covers the NC State wrestling team. Reinhardt serves as the host and producer of the podcast, which is the first and the only year-round podcast in Division I wrestling hosted and produced by a school.

NWMA on Reinhardt: "There's a lot of great SIDs out there, but when you come into a sport for the first time and on top of that, have to tackle culture changes, it can be daunting. Brian's come out with content unlike anyone else in college wrestling. Brian's innovation and dedication to his craft is far beyond what's expected these days."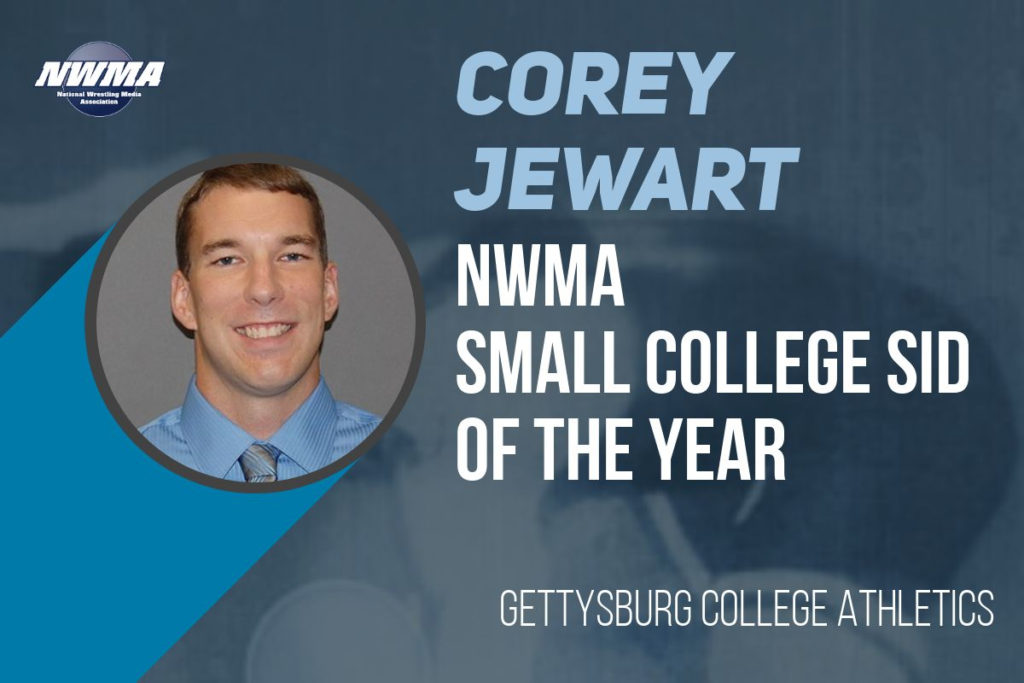 Small College SID of the Year - Corey Jewart, Gettysburg
Corey Jewart has been a member of Gettysburg's Office of Athletic Communications for 12 years, while recently taking the role of Director of Athletic Communications. Jewart oversees the communication efforts for the Bullets' 24 intercollegiate varsity athletic teams, serving as the primary media contact for the wrestling program. Jewart's coverage of Gettysburg wrestling has included serving as the media director for the 2012 Centennial Conference championship and the 2013 NCAA Division III East Regional championship. He has provided coverage of national qualifiers in eight seasons and publicized Gettysburg's last three All-Americans on the wrestling mat. This past season, Jewart covered the program's first as a nationally ranked team. He has also provided play-by-play commentary for live video streaming of home wrestling events.

NWMA on Jewart: "So many times, we see NCAA Division III schools having to share 20-plus sports across one or two individuals. Corey provides detailed recaps and his consistency has been a hallmark of his work. When asked how good his SID was from 1-10, Gettysburg head wrestling coach Andy Vogel gave him an 11. That's about as good of an endorsement as you can get in this industry. His features are rock solid and the dedication to each sport, but notably wrestling, is something the media appreciates and recognizes."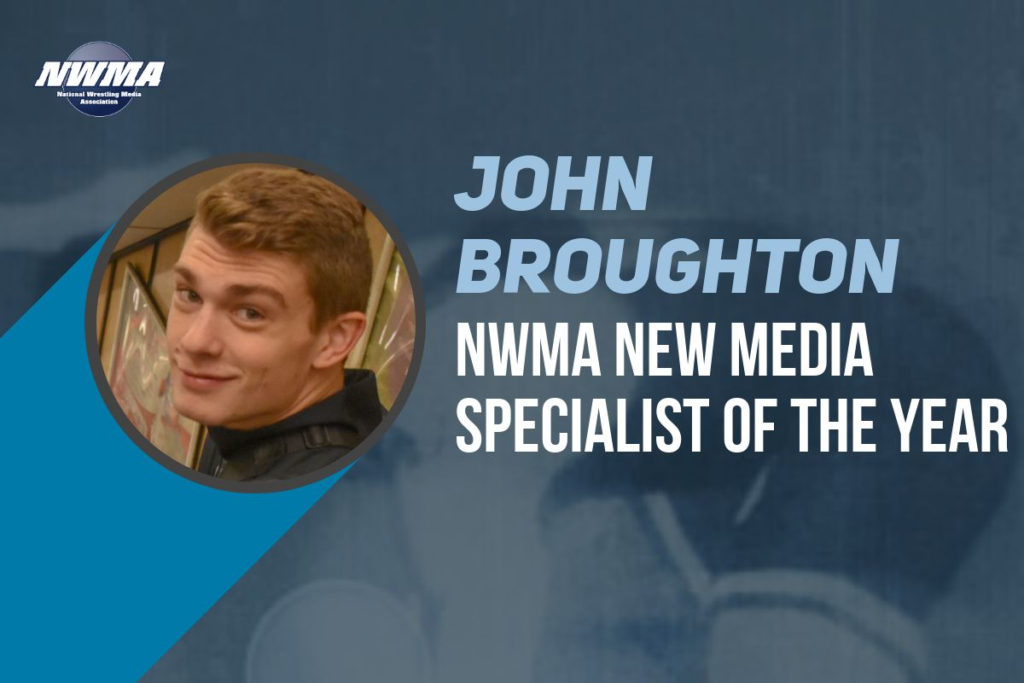 New Media Specialist of the Year - John Broughton
After two severe injuries, St. Louis, Missouri, native John Broughton time as a college wrestler came to an end. While attending NCAA Division III UW-Whitewater, Broughton transferred his love of the sport from competing on the mat to shooting video and documenting the action on it. He started with his own team at UW-Whitewater and rapidly improved his skills and gear. 
In the past couple of seasons, Broughton has done work for some of the biggest brands in wrestling: USA Wrestling, Trackwrestling, Flowrestling, United World Wrestling, UFC Welterweight Ben Askren and Army West Point to name a few. Broughton also runs a wildly popular Instagram account called @wrestling_jokes, with a reach of over 96,000 followers. Broughton is set to graduate from UW-Whitewater with a Bachelor of Science degree in electronic media.
NWMA on Broughton: "This kid has an eye for promotion, production and a passion for wrestling. When he popped on the scene with the work he did at the 2018 NCAA Division III Championships, we knew he was going to be a very relevant and active person in the sport moving forward. This award was designed for guys like John: changing the game and raising the bar, not just for production, but for promotion as well."

The 2018-19 season marked the first time a full membership vote decided the winners. Previously, nominations were taken from active members and the winners selected by the NWMA officers. This season, nominations were fielded from the active membership, and the five officers selected three finalists for each category. Those three finalists were then voted on by active membership and the winner selected by popular vote.

"This organization has grown over the past eight years and we believe our relationships with the respective media outlets and the respective governing bodies of the events our membership covers are crucial to the health of coverage of wrestling," Bryant said. "Overhauling the way we vote on awards was one thing our officers favored. So most of the process is focused on the membership and allowing the process to reflect peer recognition from membership. They nominate, then we provide three finalists and membership votes. It's been some of the best feedback we've received in the process in years. Moving forward, we're going to continue to evolve as an organization to reflect the ever-changing media landscape, likely making changes to categories and being more representative of the platforms putting out amazing content."

The NWMA opted not to award a Publication of the Year for 2018-19 and the Jay Hammond Memorial Service Award will be presented at a later date.

About the National Wrestling Media Association
The National Wrestling Media Association (NWMA) is the national professional organizations for journalists who cover the sport of amateur wrestling. This includes reporters, editors, publishers, webmasters, photographers, broadcasters, sports information directors and other media professionals who share an interest and involvement in the sport.
The NWMA represents the interests of journalists within the sport of wrestling. It shall be a resource for its members for networking and information sharing. In addition, the NWMA will strive to support the growth of wrestling and its position within the sports world and the general public by developing more quality coverage of the sport through all available media outlets. A focus on the history of the world's oldest sport and accuracy in reporting on wrestling is the foundation of the organization's mission.

The National Wrestling Media Association was founded in 1989. Membership inquiries and organizational information can be found at nationalwrestlingmedia.com