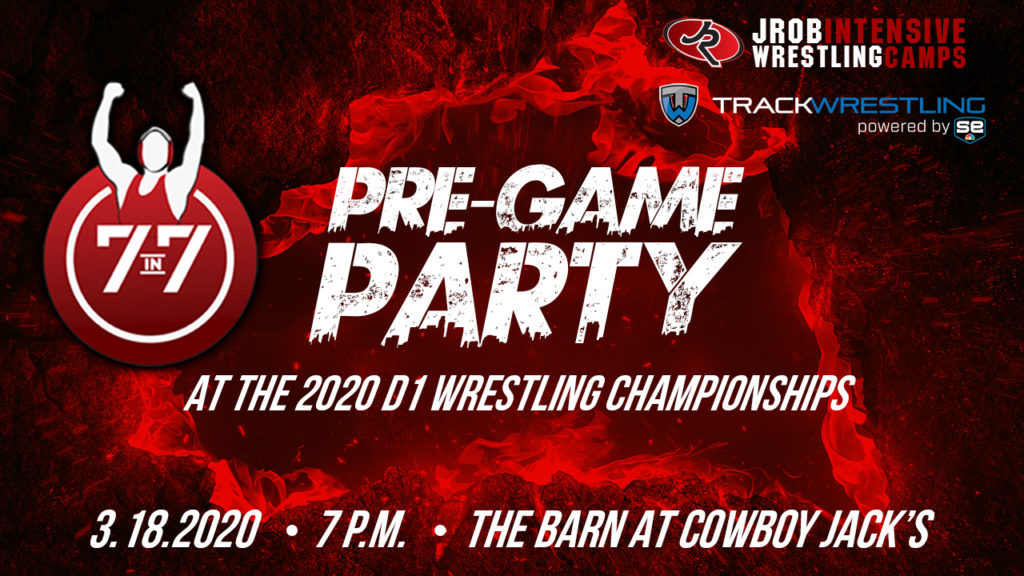 The following is a press release from Trackwrestling and JRobinson Camps. In lieu of an NWMA social at the NCAA Division I Wrestling Championships, active NWMA members will have the opportunity to attend the kickoff party. There is a limited number of tickets available to this event and we have been granted the opportunity to include our media members into the party with their paid membership. The NWMA will cover the ticket. The party will include one drink for those guests 21+. You MUST RSVP by March 15 to accounts@nationalwrestlingmedia.com. Only paid members will be covered, guests will have to buy their tickets (link below)
JROB Intensive Wrestling Camps and Trackwrestling have announced a partnership to co-host a DI Wrestling Championships kickoff party on Wednesday, March 18, at 7 p.m. at The Barn at Cowboy Jack's Saloon and Restaurant in Minneapolis. Event proceeds will be donated to TakeDown Cancer, an initiative of the Randy Shaver Cancer Research and Community Fund.

The event, known as 7 IN 7, will feature seven high-profile guests with connections to the wrestling community, including businesspeople, entertainers, athletes, and coaches. Dan Gable, 1972 Olympic gold medalist, two-time NCAA national champion wrestler, and 15-time NCAA national champion head coach, is the first booked guest. The full lineup of featured guests will be revealed via JROB Intensive Wrestling Camps and Trackwrestling social media in the coming weeks.

Shane Sparks, Trackwrestling and Big Ten Network wrestling commentator, will serve as the event emcee. Sparks will interview each of the seven guests for seven minutes, the length of a collegiate wrestling match, mirroring the format of Trackwrestling's popular "Seven Minutes" Q&A series.

7 IN 7 builds on the two organizations' rich traditions of celebrating and growing the sport of wrestling.

"This is an exciting new event that will tell stories of the life-changing impact wrestling has had on all of us," said J Robinson, the three-time NCAA national champion head coach and founder of JROB Intensive Wrestling Camps. "We are proud to partner with Trackwrestling and TakeDown Cancer to help find a cure for a disease that has touched so many."

For Trackwrestling, the event is an opportunity to further expand its wide-reaching presence during the championship weekend.

"We are thrilled to work with JROB Intensive Wrestling Camps, a long-time partner of Trackwrestling, in an effort to bring the wrestling community together to celebrate our great sport and support an important cause," said Travis Shives, Vice President of Sports, SportsEngine and Trackwrestling. "The wrestling community is special and we can't think of a better opportunity to come together and make an impact off the mat."

"All of us at the Randy Shaver Cancer Research and Community Fund would like to take this opportunity to thank J Robinson for partnering with TakeDown Cancer," said Randy Shaver, KARE 11 news anchor and founder of the Randy Shaver Cancer Research and Community Fund. "Each dollar raised makes an impact on the lives of Minnesota's Cancer Community! Thank you to J Robinson."

A limited number of tickets for the event are available to the general public at 7in7party.com. Tickets cost $15 and include one free drink ticket per 21+ guest.

About JROB Intensive Wrestling Camps
Since its founding in 1978, JROB Intensive Wrestling Camps has trained more than 50,000 wrestlers with a training philosophy that focuses on developing technical skill, physical preparation, building mental toughness, and life skills. Founded by three-time NCAA national champion wrestling coach J Robinson, JROB now operates 12 summer wrestling camps in locations across the country. Learn more at jrobinsoncamps.com.

About Trackwrestling
Trackwrestling is a division of SportsEngine, Inc., an NBC Sports Group company, and is considered the go-to resource for the sport of wrestling, providing the latest in wrestling stats and content, in addition to live streaming and archived video services at www.Trackwrestling.com. Trackwrestling is the official event management system for the National Wrestling Coaches Association and is used to manage more than 9,500 wrestling events each year. Trackwrestling's services are used as the official scoring systems for more than 35 state high school tournaments, the NCAA Divisions I, II and III Championships and is the official streaming partner of United World Wrestling. SportsEngine, Inc. is the leading provider of sport relationship management software for more than a million youth sports organizations, leagues, governing bodies, and associations. Learn more at www.sportsengine.com.

About TakeDown Cancer
TakeDown Cancer donations contribute to the work of The Randy Shaver Cancer Research and Community Fund which supports cancer research, prevention, treatment and other community needs throughout the state of Minnesota. Learn more at takedowncancer.org.