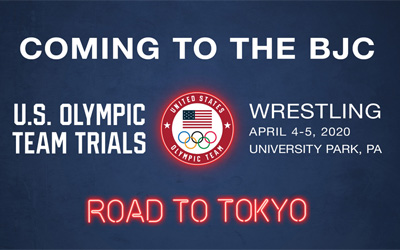 The online media accreditation application has been launched for journalists seeking to cover the 2020 U.S. Olympic Team Trials – Wrestling, which will be held at theBryce Jordan Center on the campus of Penn State University in University Park, Pa., April 4-5, 2020.
The media accreditation process for the U.S. Olympic Team Trials - Wrestling has been added to USA Wrestling's current online media credential system, which includes all of its national and regional competitions for the year. Journalists who are already utilizing the USA Wrestling system only need to go into their USA Wrestling profile and request the U.S. Olympic Team Trials.
All journalists seeking to cover the U.S. Olympic Team Trials – Wrestling must comply with USA Wrestling's Athlete Safety Media Policy, which requires journalists to pass USA Wrestling's background check and complete the U.S. Center for Safe Sport online education. The background check and Safe Sport training is free of charge to journalists.
After a journalist applies for the U.S. Olympic Team Trials – Wrestling and has completed the background check and Safe Sport training, there will be three possible responses – approval, denial or pending status. There are limitations on the number of journalists who can be accommodated at the U.S. Olympic Team Trials, so some applications may be placed in pending status, to be determined in a reasonable time frame.
While applying for U.S. Olympic Team Trials – Wrestling media credentials, journalists are welcome to apply for accreditation for other 2020 USA Wrestling events.
HOW TO APPLY
The media accreditation system is integrated with USA Wrestling's membership system, which keeps a record of those who have passed the background check and have completed Safe Sport training. No journalist will be added to the media list until they have completed the Athlete Safety Media Policy procedures.
All journalists seeking credentials will need to have create an account at https://www.usawmembership.com
Once a journalist has signed into their existing account, or created a new account, they will be able to proceed with the media accreditation request process. Once in your account:
Go to the top of the website and click the "USAW Events" scrollbar
Scroll down and click "Media Credentials"
Click the button in the upper right corner entitled "Create Media Pool Request" or by clicking the "Manage Requests" button in your media request list.
Journalists will be asked to provide information including email, phone, state, media outlet, media outlet website and job function (which includes print journalist, print photographer, internet reporter, Non-Rights Holder Broadcast, Rights Holder Broadcast or Press Attache/SID). All journalists seeking U.S. Olympic Team Trials credentials must also upload a photograph as part of the process.
Journalists will receive an email with the status of their media request, and other instructions on the background check or Safe Sport training as necessary. The U.S. Center for Safe Sport training includes watching an online video and taking short tests on the topics covered, which can take about 90 minutes to complete.
In order to get the free background check, a journalist must apply for an event credential first. Sign into your profile and request at least one event and the entire process will be initiated. Expect up to a week for approval of the background check, so you are encouraged to submit this right away.
For information on the accreditation process, contact Gary Abbott of USA Wrestling at gabbott@usawrestling.org or via cell phone at 719-659-9637.