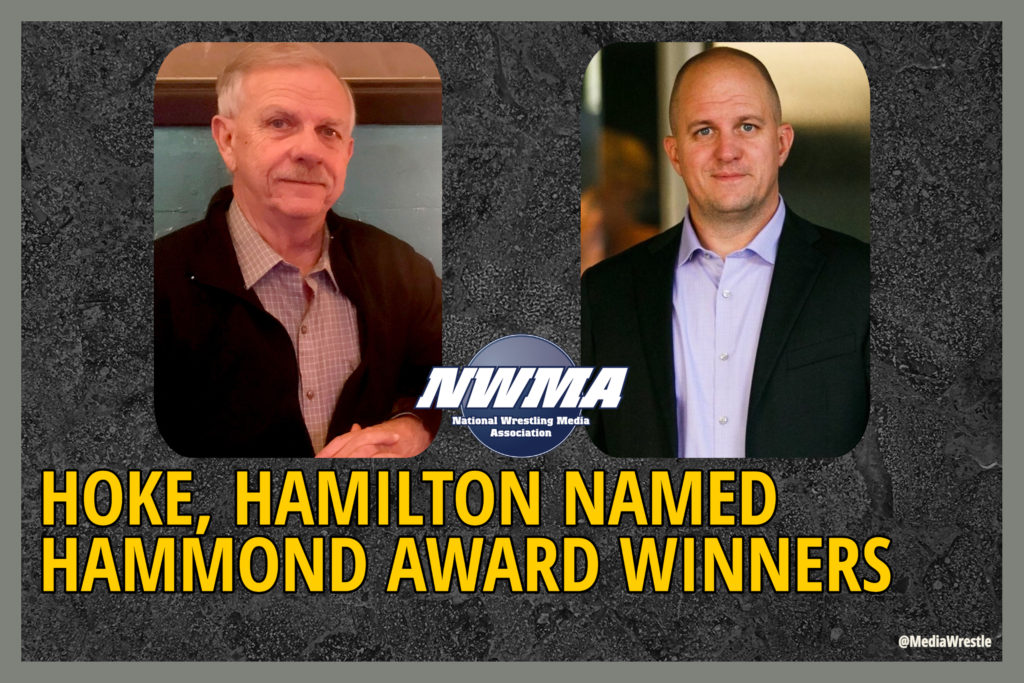 New Brighton, Minnesota — Two of wrestling's most impactful individuals have been named the recipients of the National Wrestling Media Association's Jay Hammond Memorial Recognition Award. 
John Hoke, Publisher of Amateur Wrestling News since 1981, and Andy Hamilton, a Managing Editor at FloSports in its popular FloWrestling vertical, are this year's winners of the highest honor presented by the National Wrestling Media Association.
The NWMA, founded in 1989, is a professional organization for journalists who cover the sport of wrestling through any and all levels. This includes reporters, editors, publishers, webmasters, photographers, broadcasters, sports information directors, and other media professionals who share an interest and involvement with the sport.
"When you look at wrestling through the eras, there are two things that seem to be constant. One of those things is Amateur Wrestling News, and the other is something written or produced by Andy Hamilton," said Jason Bryant, current NWMA president. "For more than half a century, Amateur Wrestling News has been one of the only sources the sport had for not only covering wrestling, but documenting it as well."
The Hammond Award is named in honor of the late Jay Hammond, a former president of the NWMA and one of the key figures in helping document the sport's history through technology. The Hammond Award is awarded for outstanding work in the effort to educate and enhance the sport of wrestling through media.
Hoke's foray into wrestling came early as his father, Jess Hoke, founded AWN as Wrestling News & Reports back in 1956 in his native Oklahoma. Hoke comes from a large family of wrestlers, including older brother Bob, who was a 1954 NCAA champion at Michigan State. Hoke remembers attending his first NCAA Championships two years before the first edition of what he simply calls "Wrestling News" came off the press.
Describing himself as a "moderately successful" wrestler in high school, Hoke attended Oklahoma on the insistence of his father because it "had a better journalism school." After a stint on the freshman wrestling team in Norman, Hoke focused on journalism at the school paper before joining his father at AWN in the fall of 1971. He's been with the publication ever since.
Hoke was a fixture at wrestling events for the next decade, hustling to gather copy for AWN until Jess passed in 1981. Upon his father's passing, John Hoke assumed the role of running the company, including the evolution of the print industry. Hoke was also matside for nearly 30 years as a photographer for the magazine.
"I suppose my biggest accomplishment for the sport of wrestling would be the continuation of the institution of Amateur Wrestling News following my fathers' passing," said Hoke. "Forty-two years of the 68 total that Amateur Wrestling News has been publishing."
Thumbing through stacks of AWNs, you'll see some of the highest of highs — NCAA team championships celebrated, World and Olympic golds showcased — as well as some of the lowest points in the sport's history, such as the murder of Dave Schultz and the removal from the Olympic programme in 2013.
"He has spent over 50 years of his life devoted to the sport as a publisher and photographer. He has continued to put out an outstanding product to the folks," said longtime AWN columnist and reporter Ron Good. "(John) always handled pressure well. Never rattled at a deadline. His family always came first. He was a young wrestler himself and has used that mentality throughout his life."
"In a world where we have digital access to nearly everything on our phones, there wouldn't be the history and development of coverage in this sport if it weren't for people like Jess and John Hoke," said Bryant. "Not a week goes by that I don't turn to my old issues of AWN to look up something. The Hoke family and the longtime staff of AWN have had an immeasurable impact on this sport."
Said Good: "It's hard to believe what went into publishing the Amateur Wrestling News in the 1970s and 1980s. Long hours for sure. Back and forth trips to the typesetter … typing dual meets on an old standard typewriter … proofing galleys and making corrections late at night. Dragging issues to tournaments."
Hamilton, a longtime print journalist at Iowa City Press-Citizen and the Des Moines Register, has been one of the sport's anchors when it comes to all things related to wrestling journalism. For years, Hamilton had one of the toughest beats in the sport, covering the college and high school scene in wrestling-crazed Iowa.
"When Andy works an event, you just see a mix of old school journalistic work ethic combined with the new school way of coverage as technology has changed the way everyone consumes and covers sports," said Bryant. "Andy's just the perfect mash up of a guy who can develop a dynamic enterprise piece as well as organize and create coverage opportunities using the technology and networking to reach thousands of fans."
Hamilton says he can't recall a point in his life where wrestling wasn't a part of it.
"My parents took me to the 1980 NCAA Championships in Corvallis, Oregon, when I was four," Hamilton said. "We had season tickets at Iowa and Iowa State and rarely missed a home dual for either team. I was at the dual in Hilton when Dave Osenbaugh pinned Lou Banach and there when Jim Zalesky wrestled Nate Carr. I was at the first dual when Carver-Hawkeye Arena opened in 1983 and in Carver a couple years later when Iowa beat Oklahoma State 40-6. I was watching from the rafters in Hilton when Lincoln McIlravy rallied back against Gerry Abas in the 1993 NCAA finals."
Those early memories would be highlights in anyone's wrestling career, but Hamilton's journey from Williams, Iowa, to the Olympic Games in Tokyo has been filled with success wherever he's gone.
"I was right out of college in January of 1999 and the Iowa City Press-Citizen needed someone to cover high school wrestling," said Hamilton. "Iowa City High had the top-ranked team in the state in Class 3A and I became the high school wrestling writer by default. My first assignment was covering the Mississippi Valley Conference tournament and I was hooked during the first hour. I covered high school wrestling the rest of the season, experienced my first Iowa state tournament and City High won the 3A title by a point in a team race that came down to the final seconds of the last match."
Hamilton's professional career has twice landed him Journalist of the Year honors from the NWMA, the Bob Dellinger Award for Wrestling Writer of the Year from Amateur Wrestling News, as well as the W.I.N. Magazine Journalist of the Year on two occasions.
After nearly 17 years full-time in the print industry covering a litany of events in addition to wrestling, the sport finally grabbed 100% of his attention as he joined Trackwrestling in 2016 and quickly developed the site into a coverage monster within the sport. When FloSports purchased Trackwrestling from its parent company, SportsEngine, in 2021, Hamilton was a key part of the acquisition.
"Andy Hamilton has been a gamechanger for the FloWrestling team," said Christian Pyles, Content Manager for FloSports' FloWrestling vertical. "His leadership, work ethic, and attitude have helped FloWrestling continue to raise the bar as the essential destination for the sport of wrestling. His mentorship of both full-time staff and freelancers ensures a lasting legacy of quality coverage for the sport."
Longtime friend, podcast co-host, and co-worker Kyle Klingman has seen Hamilton at nearly every stage of his career.
"Andy is the best because he asks the reader to join him on a journey that goes beyond the surface. Every angle is explored in a meaningful and thorough way so that you want to keep reading," said Klingman. "Every word serves a purpose and his crisp prose stays with you beyond the final reading. Andy is proof the written word has the capacity for significant change."
"Andy painstakingly goes through every word and never settles for good enough. Andy's writing process would break most people, and it almost broke me on the rare times we worked on articles," Klingman continued. "The final product looks and reads polished, but the hours spent to make it happen are astronomical. There are times he worked through the night and the sun came up by the time he finished a story. Andy only accepts perfection of himself, and that is reflected in his quality work."
When you look at the combined careers of John Hoke and Andy Hamilton, you'd be hard pressed to find any wrestling fan who hasn't read something they've had a hand in over the last half century. AWN was the college wrestling lifeline for fans long before the instantaneous world of the internet.
It's these reasons, and countless more, Hamilton and Hoke show that no matter the era and no matter the technology, the work ethic and dedication to this sport shines through in their efforts.
JAY HAMMOND MEMORIAL RECOGNITION AWARD RECIPIENTS
2023: John Hoke, Amateur Wrestling News & Andy Hamilton, FloSports
2020 - Dan McCool (p), Des Moines Register & Justin Tritz, Trackwrestling
2018 - John Sachs, Tech-Fall.com
2017 - John Harmon, EIWA/Lehigh University
2016 - Jason Bryant, Mat Talk Online & Martin Floreani, FloSports
2015 - Mike Finn, W.I.N. Magazine & Pat Tocci, NWCA
2014 - T.R. Foley, InterMat/CPOW & Jamie Moffatt
2013 - Laurie Cannon, NCAA & Gary Abbott, USA Wrestling
2012 - Christian Holiday, Global Media Marketing & Shawn Van Leeuwen, Takedown Wrestling Media
2010-11 - Craig Sesker for Bobby Douglas: Life and Legacy of an American Wrestling Legend.